the frankenspriting is simply the most amazing technique to make new chars in mugen.

with the perfect base and the perfect palettes the magic happens.

when we found the suitable base for our project, everything is easier and faster.

don´t worry the frankenspriting is not a poorness of talent or junk stuff.

famous company already used this amazing resouce of creation.

it´s a thing complety normal and sometimes almost imperceptible.

try it and you will surprise yourself.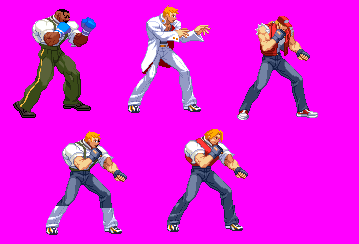 how to make a frankenspriting?


1 - select a char with the same body structure of your project char.
2 - add the same palette to the base using the fighter factory in bmp 256 colors.
3 - crop and paste the part you will use to create a new body.
4 - remove or add new details to fit to the final project.
5 - if with a unique base you don´t get to make your char, you can to use 2 or 3 bases.
6 - it can be the head of a char, arm and legs of another and etc.
7 - take a care with the palettes for to fit it perfectly.
8 - proportions are very important like height and width.
9 - some frankspriting are only change of head. = example ryu and ken or morrigan and lilith.
10 - polish the sprites and remove the unnecessary traces will make the work looks very original.
----------------------------------------------
INSPIRATIONS FOR YOU....