Hi Guys, here are 2 more stages to share with you,
First one is "Sagat Stage SF1 2.0". I was not satisfied at all with the first release of this stage

i know it has yet more potential so i decided revamp with:

-Fixed smothed colors less "cartoonish"
-New "grass" effect for the ground
-Revamp sprites for stairs
-Add tiny little bushes at the base of stairs and walls
-Coolest golden buda image.
-Rise up sprites behind the walls.
-Fixed deltas.
-As always Zoom and superjump.
(Now i am satisfied with the results.)
Here is the link. Enjoy
mediafire.com download/b83bao1wh811cha/SagatStageSF1_2.0.rar
I hope you like it.
Second one its name "Divine Wrath" by THE KING OF FIGTHERS XI Ž‡‰'STAGE@¦D4MUGENê—p@by •" (i think the original creator is D4MUGEN or something like that

) anyways. In this one: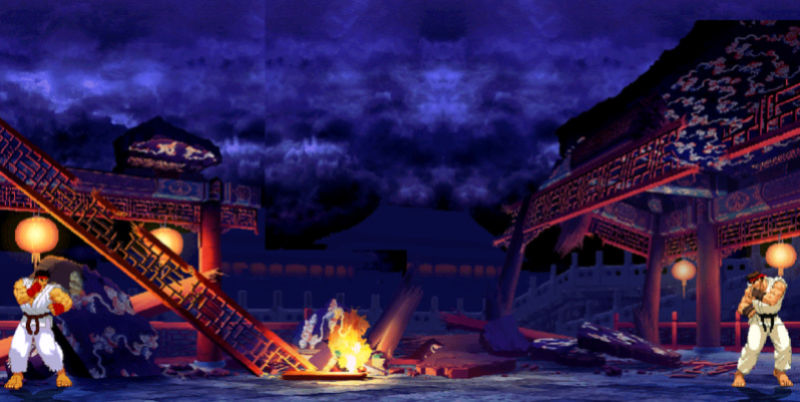 -Change sky sprites with thunder clouds
-Zoom and Superjump.
-Play with the contrast of bg elements an give "purplish" color and look more dramatic. (in my screen pack i put as music for this stage "Duel of the Fates" mix orchestral - metal version" i did myself and looks & sound COOOOOOL!!!!!!!). if some one wants the mp3 send me an MP.
Here is the link.
mediafire.com download/p4kouko6r6wqyvn/divine.rar
I hope You Like it.
Please Comment any feedback is welcome
Enjoy and have Fun