Can't say much more about this aside: "what's up guys!; How have you all been?; What are you guys up to?; How's the mfl leaderboard score?" (but to ask the last question i must be ignorant because i can always check it out), but if i can say something else about this is:
damn this was painfully long!!
finally i have internet again.

Some of you guys might be asking: "What have you been up to?" (lel not really, i just wanted you guys to know) well, i haven't been really doing much about mugen: i've been rearraging the roster and editing characters to implement Pot's style's A.I to some characters (you gotta do this when you are sick of facing characters that or: they don't have an A.I. or his A.I is "too hard" when i'm facing him/her with a char that i don't play so often and i can't tone it down because his A.I does not depend on Difficulty Level) I might release A.I. patches for theese characters, but i first must ask each character's respective author
Then i recently started working on old WIP's that i left gathering dust: king (from tekken)
Because i still suck at spriting i started by making special attacks using sprites from the sprite sheet (i made 3 specials so far, 2 moves from tekken and one inspired in namco x capcom where he calls felicia) take a look: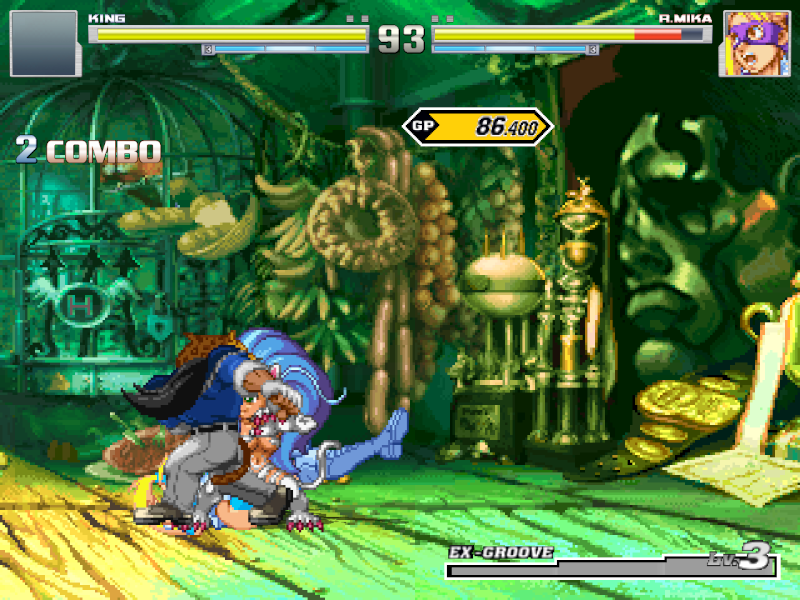 Fellicia and king (felicia had just hit his opponent with his rolling attack: "Rolling Bucler" while king performs the move: "Jaguar Lariat" will talk more about king's WIP later, hope you guys like this idea)