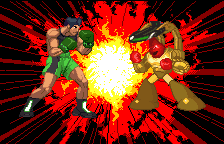 The anticipation has me on the edge of my seat!
These 2 will soon face off in a long-awaited and epic battle in the squared circle!
If you ask me, I believe Robox will have Mac down for the count before the bell rings!
But, then there's Mac's speed and determination, whereas Robox relies on heavy strikes and minimal defense.
The odds are suspenseful and heart-pounding!
Who will win? YOU Decide!