All right, after three beta releases, here is our final release of BlueSpider, it was supposed to be released by BlueSpider (creator) along with my characters in the event, but due to computer troubles i had to release him now as BlueSpider couldn't do it.
Backstory is yet to be finished tough but i will leave that to BlueSpider
Btw: There are six Spidermans: Blue, Red, Green, Yellow, white with iced-colored eyes and black with green-colored eyes, i've made them all as: 1,7,8,9,10,11 (last pallete is real spiderman) palletes respectedly, i won't make every one of them as characters because neither I or BlueSpider (Creator) are not willing to make them.

https://www.sendspace.com/file/x5vx4n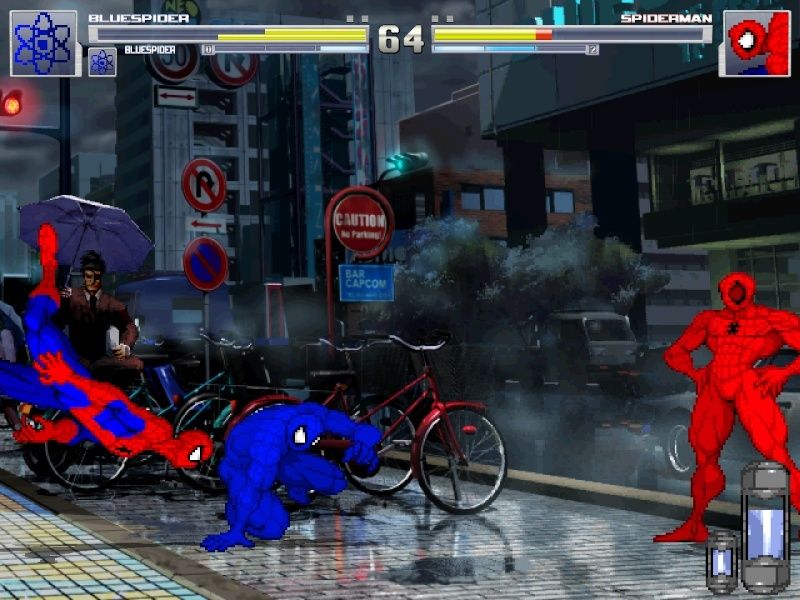 Yup, BlueSpider tripped Spiderman while "RedSpider" was in the corner healing himself, but if you are expecting Spiderman to lose against them then...
Match Results:
MOVELIST:
(reminder all the moves that had web has been removed, every thing else is kept they just haren't listed here, only add moves are listed)
Lazers:
(creates an orb (or two, depending on the punch button) that shoots 3 lazers, BlueSpider does a small jump if you use the  
 button)
Explosion:  
(BlueSpider summons an explosion wave, the distance depends on which kick button, if you summon the explosion furter than the oponent while hitting him, you will send the oponent flyng towards yourself)
Red Spider (helper):  
(BlueSpider calls for RedSpider's help, RedSpider jumps in (jump distance depends on wich punch button is pressed for this hyper) and summons (while punching BlueSpider's opponent if it's close enough) a huge barrer of flames that serves as a barrier for projectiles or to lauch BlueSpider up in the air and don't try to hit RedSpider, he's unhitable)
Trip:
(From the original Spiderman, the name explains it all, it's an attack to catch your opponents unexpectedly causing the to get tripped)
Spider sting:
(From the original Spiderman, a shoryuken-like special, nothing much to say about it)
Super Energy Ball (hyper):  
(A Giant Energy Ball that doens't shoot lazers, hit the opponent with it, at the end of the hyper BlueSpider trows the Orb frontwards)
Super Lazer Orb (hyper):  
(This orb Giant Lazer Orb is summoned in the middle of the camera in the stage and it shoots lazers in 16 directions, but it's a weaker hyper then most of hypers to balace this hyper)
Spider-sences Mode:  
(From the original Spiderman, for those who don't know what it is, it's a mode whenever an opponent attack, they are slown down so you can clearly see what they are doing so you can think on what to do to counter it, like dodge, guard it, or if your fast enough you can attack him first)
(Also in this mode you can't the neither the Super Energy Ball or Super Lazer Orb, instead you must use the other hypers below, but trust me it's totally worth to spend one lvl 1 hyper to be in this mode)
Maximum Spider
(From the original Spiderman, BlueSpider jumps into a corner and then dives at the opponent if it hits, then he repeats it a couple of times making it a combo, if it dosn't hit or opponent guards the first hit, the BlueSpider Stops attacking, also this hyper can't be used without being in Spider-sences Mode)
Crawler Assault
(From the original Spiderman, well he starts a barrage of punches and kicks, good for juggling, also this hyper can't be used without being in Spider-sences Mode)
What's new?:


Win Quotes (thanks Mushroom89);

basics to specials/hypers cancel (doesn't cancel special to hyper, this is intentional)

gameplay tweaks such as specials/hypers do chip damage, trip now is block only low

Credits/Special Thanks to:


ZVictor, he gave us the permission to use their spiderman as the base for the whole character;

Would like to thank RG_OP, we used his Scarlet Spider as a base for my shield, but now i made it in a diferent way (spriting way that is);

Would like to thank T.O.P.S, spaceman & Angelus_Silverhead, we used their Venom: one of his win poses (the one where he darkens the stage) as a base for my win pose;

Borewood2013, he helped me alot from the positioning of helper in the middle of the stage to fixing one special, also he gave me feedback for my last gameplay tweaks;

Mugen Multiverse, our home;

Elecbyte, for creating Mugen;
And I guess thats it, if i'm forgetting you sorry, please tell by pm;