==============Wario==============
All right guys, yet another wario update, this update is focused on gameplay tweaks, and a readme with gameplay, movelist and other details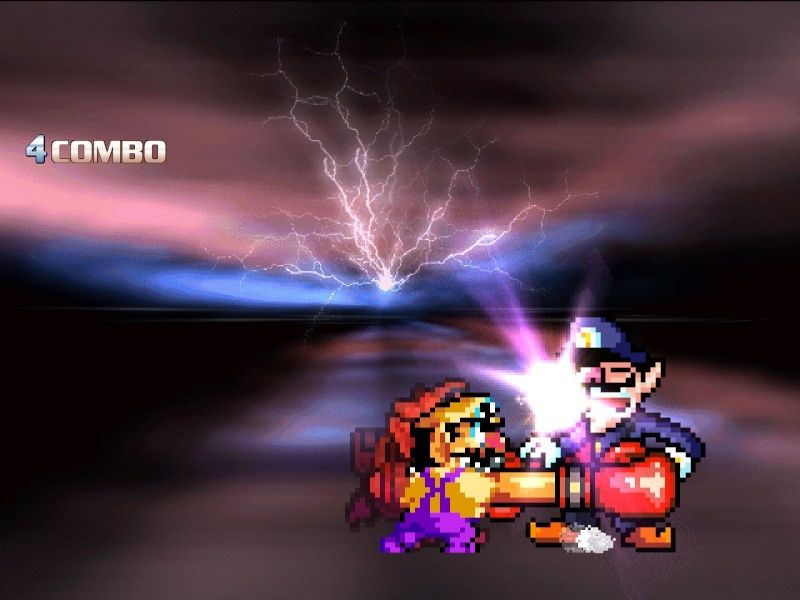 Movelist description (outdated, see the readme, updating topic):
Specials:
Fist Connection: a special that can be linked into a chain, very usefull to extend your combo (but it's impossible to spam unless your opponent is guarding), forward distance and damage depends on wich punch button is pressed
Ram/Shoulder Dash: wario's signature move that almost anybody knows, running distance and damage depends on wich kick button is pressed
Smash Punch (from super smash bros): a bit slow & predictible but deals alot of damage
Cockscrew conk (from wario world, not from super smash bros): jumps forward with an energy around him (or something like it, don't know what to call it), the jumping distance depends on wich kick button is pressed but deals the same damage, very good to start combos
Ground Pound/ Ground Smash: the other signature move of wario in wario land games, wario goes down faster/slower depending on wich kick button is pressed, did this for strategy purpuses, can hit opponents that are laying down, you can do this in air only, you can combo a basic attack into this, good if opponent is cornered
Wario rides a bike, it goes faster/slower depending on wich kick button is pressed but all ride the same distance, slow startup, can only be blocked low and can hit opponents that are layng down, you can combo a basic.
Hypers:
Ultimate Fist: a ridiculously huge punch from wario, hits only once, does good damage
Boxing Barrage: a good hyper to extend you ground combo, wario gains boxing gloves and charges at you (like fist connection) if it conects, he does a barrage of punches, finishing with a upper cut, if he misses or opponent guards, well he changes back to normal, that's it
(this move is a reference to another of flammableking's wip: Roboc Rese-4)
Super Ram/Super Shoulder Dash: A hyper version of shoulder dash
Super Ground Pound/ Ground Smash, can be performed both in air and ground, but you can do it only in the air if you have a high altitude.
Wario man: this is why wario is the most fun character i've made so far: wario transforms into a huge wario man that is strong, unhitabble and is controlable (you can move wario around the screen, use  
 or  
for wario man's left punch,
or  
to wario man's right punch,
 or
to use both fists in case your opponent is in the middle of you (deals less damage than left or right punch) all of wario man's attacks are unguardable and don't combo because they would be way too op, wario man mode, of course has limited time, and you'l transform back to normal.
Confused? You will understand me when you try warioman's hyper (just try it far away from the opponent so you won't get hit while transforming.)
What's new?:
Wario man is now just another lvl1 Hyper, reasons: i want to follow the template's gameplay details
A readme: Includes the Gameplay details, Movelist, Move details (explaining how wario's moves work, pretty much giving tips)
A hyper update: Boxing barrage (see movelist): Hit falling enemies with this move to make them stand up & continue your combo

Credits:
A.J Nitro for ripping wario sprites from the game, some sprites are edited
redblueyellow, for ripping wario man sprites, of course some sprites are edited from his sprite sheet
Elecbyte, for making Mugen;
=============Waluigi=============
Ok, this is my newest wip, flammableking isn't actually involved in this character, but i thought it would be a good place to release waluigi here, since you know, he is amm... (it's not know if they're bros. cousins our just two guys who got friends), well first off unlike wario, waluigi has palletes, but i just made 2 for now because i will make a colour separation soon.
Waluigi is still just a beta/wip, NEEDS FEEDBACK (im aware he is almost void in voices, my soundboard died, will add more voices)
Movelist:
Specials:
Air Swim: (tap twice  while in the air either
or  
or  
 or  
)
One of waluigi's crazy and unusual powers, he has the ability to swim in the air for a short time, you can change the direction trough where waluigi swims in all 8 directions, let go the direction buttons or attack to stop swimming manually
Beware, waluigi can't block while swimming
Tennis Ball: Waluigi waves in a come at me gesture, and a tenis ball comes bouncing at waluigi, hit the ball with either Crouching  
Crouching  
Crouching  
to send the ball as a projectil against the opponent
Each crouching move that hits the ball will send the ball in each own direction
 (Air only!)
Wah!: yells at the opponent, hurting and pushing the opponent away, good for tactical retreats, there are no button variations for this special move yet
Waluigi puts a bomb omb on the ground and sends him against the opponent, the bomb omb is unblockable, luckily it takes alot to explode, currently there are no variations for this move yet
Waluigi forward kick: A powerfull kick that sends the opponent against the wall, the player can combo after it, each kick button has it's own travel distance and damage
Cold Blue Kick: this is remy's cold blue kick from his sf3 appearence (waluigi has powerfull kicks so this move fits him well), it functions pretty much the same way as the original (leap forward and dive kick)however this move has aerial variations.
Each kick button has it's own travel distance but do the same damage.
(Hold either
or  
 or  
or  
) +  
Cold flying kick: pretty self describing move waluigi "flies" (not literally, unlike his ability to swim in air) all kick buttons do the same distance and damage, but you can aim in each of the directions indicated above
Hyper move:
Wallu-rambo: Walluigi transforms into wallu-rambo and fires 3 bullet bills and different directions.
Credits:
- No body the dragon: i used most of his waluigi sprites, made my own editing his sprites
- Elecbyte, for making Mugen;
- And i guess that's it...? if i somehow forgot to add you tell me  
Download Wario + Waluigi here
sendspace.com uqkg2v