Hey Guys. I've updated Adrian with his MSH gameplay but in the ps1 version.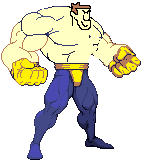 This Update has newer stuff with no 3 hypers just one hyper.
What's New:
-Added Walking sprites black shaded
-Added Spinning Piledriver Move
-Added a new throw piledriver
-Added a info.txt file
-Added sprite # 29 shaded
-Added deleted hypers 3 hypers of Adrian. He now has a one hyper
-Added Bomb FX
-Added Crouch strong Punch's new velocity for opponent
-Added 2 hitdefs and 2 redhitboxes
-Added a new hard punch after the normal hard punch
-Added Fixed Dizzy State with the problem that was floating the character. Now I put Posset y = 0 so then he whould not float
What's Missing:
Special intro vs strong guy
Other need shaded sprites
That's all!
Here are Examples
Combo 1: Light Crouch Punch,Medium Crouch Punch,Hard Crouch Punch,Super Jump,Light Air Punch,Medium Air Punch,Hard Air Punch
Combo 2:Light Stand Punch,Light Stand Kick,Medium Stand Kick,Hard Stand Kick,Boulder Roll Hard
Combo 3:In Adrian_Easy.cmd if you are quick!,Stand Light Punch, Crouch Light Punch, Crouch Medium Kick,Trip,Boulder Roll,Rhino Rampage
Combo 4:Light Stand Punch, Medium Stand Punch, Hard Stand Punch, Rhino Charge Light, Rhino Rampage(If you are quickest!)
Or every combo you can make.
Special thanks
To Mistah Jorge for telling me about the problem about the shading of the character

. But the walks and sprite # 29 are black shaded.
So enjoy!
Click in the link below.
mediafire.com download/r1774j4yfb6b81m/AdrianUpdate.rar