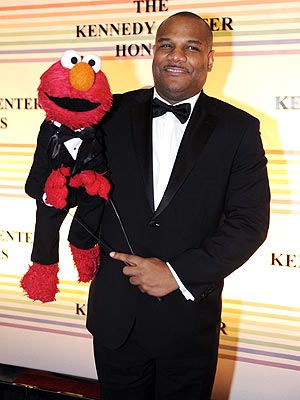 Kevin Clash, the voice and puppeteer behind Elmo on Sesame Street, has resigned.
"I am resigning from Sesame Workshop with a very heavy heart. I have loved every day of my 28 years working for this exceptional organization," 52-year-old Clash said in a statement Tuesday. "Personal matters have diverted attention away from the important work Sesame Street is doing and I cannot allow it to go on any longer. I am deeply sorry to be leaving and am looking forward to resolving these personal matters privately."
On the heels of a second set of sex abuse accusations, reported by TMZ.com, Sesame Workshop also issued this statement Tuesday.
"Sesame Workshop's mission is to harness the educational power of media to help all children the world over reach their highest potential. Kevin Clash has helped us achieve that mission for 28 years, and none of us, especially Kevin, want anything to divert our attention from our focus on serving as a leading education organization. Unfortunately, the controversy surrounding Kevin's personal life has become a distraction that none of us want, and he has concluded that he can no longer be effective in his job and has resigned from Sesame Street," they said Tuesday. "This is a sad day for Sesame Street."
Last week, Clash was granted a leave of absence from the children's program amid the accusation from an unidentified male that Clash had sex with him when he was underage.
Clash maintained that the relationship with the accuser was between two consenting adults. "I am deeply saddened that he is trying to characterize it as something other than what it was. I am taking a break from Sesame Workshop to deal with this false and defamatory allegation," he told PEOPLE in a statement via his rep.
The accuser later recanted the claim after issuing a statement via Andreozzi & Associates, the law firm representing him, saying he "wants it to be known that his sexual relationship with Mr. Clash was an adult consensual relationship."
At that time, Clash told PEOPLE in a statement through his rep: "I am relieved that this painful allegation has been put to rest. I will not discuss it further."
Clash was the subject of Being Elmo: A Puppeteer's Journey, a 2011 documentary that profiled his career on Sesame Street.
man how can I say this..... well ever since i was 3 years old i 1st started watching sesame street and i always love every characters from that show even elmo.
now this problem kevin did I can only say that he should clear this whole thing up and get the help he needs as for all the parents that grew up watching the show i think this will be the last time we see the cute little furry red monster know as elmo.

so what you guys think about this & whats ur childhood memories u had growing up watching this show plz leave your comments here.