Hey Guys. Today I had made four sprites and cps2-like Five Nights at Freddy's Sprites today and long days ago.
I came up with an idea to make whitered chica into a cps2 style standing.
I had to copy the picture of chica standing from five nights at Freddy's 2.
I drawed it on MS paint to make chica's sprite to become as a cps2 style.
In chica's Sprite Chica's mouth open does not have wires included  
 .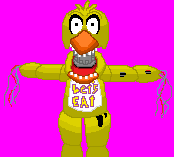 Whitered Chica.

Pacman With arms and legs. Long days ago i made it.
Golden Freddy.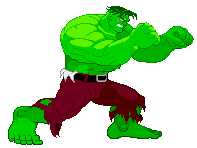 Hulk with newer stance.
My Two Five Nights at Freddy's Sprites to me they remind me of a cps2 sprites.
Hope you enjoy this.
More of my sprites are coming!
________________________________________
He's Here!
mediafire.com download/vpu73i1298w8rv6/Bonnie+The+Bunny.rar