DQ3 released by moyomoto 2014-12-14:
I like this Dragon Quest 3 hero character in MUGEN very much!  The sprites, VFXs, moves set, button layout (3-button is fine to me), and the spot-on fandom elements!
The MUGEN author moyomoto mentioned in the readme that this Dragon Quest 3 hero MUGEN character is open-sourced to the public.........so anybody feel free to use it to make a cool custom version! 
Download hyperlink here:  http://www1.axfc.net/uploader/so/3373309
* download page password: 

DQ3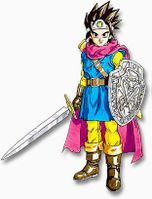 ------  play some Dragon Quest 3 now

 ------