Even before MMV Madness i tought to make a Groundon (not related with the pokemon project, but i wouldn't mind if it would be used for it), there are very few good pokemon creations, even fewer is the number of good pokemons bosses that i can remind of (cyberlizard's second rayquaza for example), i was like: do i really want to make a full groundon character??
Nah not for now i'll just make a sprite, pokemon type wild style, just in case the next spriting contest is about pokemon (because i was going to vote for pokemon universe)...
So i started to draw the groundon, for the base i used the sprite from pokemon platinum, resized it drastically and draw over it, honestly i wanted t make this sprite because of the spriting contest and when i discovered it was about halloween (I'm a f***ing genious as you can see  
)
But now i continued it (it was missing his teeth) so after 6H (of acumulated work i remade his platinum sprite in HQ)
Enjoy  
(Yeah i know the teeth could be better thank you  

)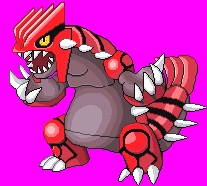 Tell me what you think (His colours reminds me a bit of sf3 palletes don't you think?

)