MUGENMULTIVERSE HAPPY ANNIVERSARY!
Reporting me to help a little with the celebrations.
Enter to ... Lobo 16bits!
This character represents very satisfying for me and why I is the reason I want to share with you today.
First: with Lobo 16 bit released i have 20 characters relased.
But second and most important is that this character even gave me the opportunity to work with two great mugen:
Mon-El, who ripping sounds and
Doom, my brother and my big Argentine buddy who took charge of the graphics.
¡¡¡FELIZ ANIVERSARIO MUGENMULTIVERSO!!!
Aqui reportandome para colaborar con un granito de arena en estos festejos.
Presentado a... ¡¡¡Lobo 16bits!!!
Este personaje representa muchas satisfacciones para mi  y por ello quiero compartirlo hoy con ustedes.
En primer lugar con Lobo 16 bit llegó a 20 personajes liberados.
Pero en segundo lugar y más importante aun es que este personaje me dio la oportunidad de trabajar con dos grandes del mugen:
Mon-El, quien ripeo los sonidos y
Doom, mi hermano argentino y mi gran cuate quien se hizo cargo de la parte gráfica.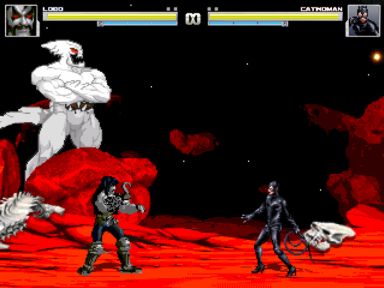 Download here