I found an updated Stance for Johnny Cage in my backup memory drive.
Compared to the old one.
The old one uses a head model from Street Fighter The Movie Video Game's Ken.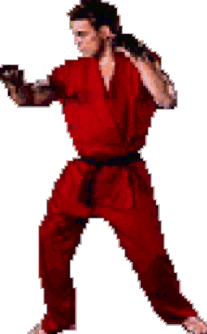 http://cdn.wikimg.net/strategywiki/images/f/fb/SFTM_Ken.gif
However the head was modified a long time ago to better fit the MK3 size base. Sun glasses were later added on for that movie star flare that Johnny Cage is known for.
For this installment, I wanna make Johnny Cage fight like Patrick Swayze  in the movie Ghost.
@3:10,
http://www.youtube.com/watch?v=dFVqvZSVg2k
Basically I wanna make him a Ghost fighter. In MK3, he came back for Mk3 Trilogy as a Ghost fighter. Kinda like Scorpion, but without the going to hell part.