should I go with the  Game Boy Advance or Mobile Phone Version
GBA                       Mobile Phone
the best part is the  Game Boy Advance has better looking animation but only (already ripped but the bad part is there small so more work)  spider-man, Venom, and Green Goblin, the game has more? I hear it don't have RHINO
Carnage?
Links
Ultimate Spiderman
Ultimate Venom
Ultimate Green Goblin
the mobile phone however has Spiderman, Black suit Spiderman, Green Goblin, Doc Ooc, Electro, Shocker, Rhino, Beetle?,Vulture,  you can even use Peter Packer and Mary Jane! it says theirs more but I doubt it. yet no venom  
also some of the sprites are better looking and but have bad animation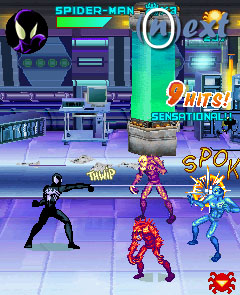 I know you guys had a way to rip soul calibur sprites can you do that with this one? I can snap shoot it or record via AVI and get the sprites form the .avi
or should I just use both seeing I can just redraw the  Game Boy Advance  versions and use the others chars to add to the list?