Dear all
for the (unofficial) Halloween event, I'm releasing the updated version of "The Penguin" by Shining, Volzzilla & Asterione.
The character comes with basics, one throw, six specials, four hypers
Specials:
 -> Umbrella Gun (3 variations: machine gun, flame gun, web gun - the gun automatically follows the opponent in the air)
 -> Gas Attack (3 variations: smoke, poison, narcotic - each has different effects in terms of damage, power drain, dizziness)
  -> Penguin Mines (3 variations: explosion mine, ice mine, electric mine)
  -> Umbrella Trap (3 positions: close, middle screen, far away)
 -> The CobbleRoll (3 Speeds)
 -> Sneak Attack (3 positions: close, middle screen, far away)
Throws
 or
-> Throws the opponent on the other side of the screen. If a mine is in the way, the opponent will land on the mine making it explode
Hypers:
 -> Penguin Bomber
 -> Aviary Of Doom
 -> Umbrella Missile Barrage
 -> Here comes the CobbleBot
(all hypers come with three levels of damage, corresponding to the power bar)
The character has 4 intros and endings.
The voice is that of David Jennison from DCUO.
The character has 6 pallettes. I also managed to create one similar to Danny DeVito's Penguin in "Batman Returns"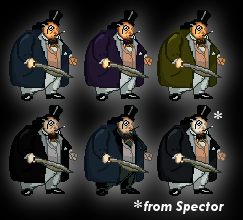 The character has been heavily debugged following your prior comments. We are especially grateful to all your comments to the previous release.
In particular:
- we optimized hitboxes
- fixed sounds
- fixed the infinite loop bugs with the machine gun and the ice mine
- realigned hitsparks
- debugged mines
- made jumps and umbrella falling from the ceiling faster
- improved the lag of the penguin bomber
- fixed way in which the opponent is hit.
Please enjoy
Code:

http://www.mediafire.com/file/ublgbb4l6cp0yit/new_penguin.zip