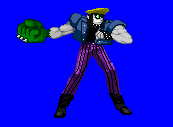 "In a world where everyone hates you, learn to love yourself."
"It's so much more fun to be somewhere when you're not supposed to be!"
"I'm not a superhero, I'm just a cop without a boss or a badge."
"If you can see it with the eye of your mind, make it so the eyes in your face can get a good view, too."
"Men who live in glass houses shouldn't throw stone...but, if I lived in one, I'd hurl stuff everywhere because I have destructive urges and tendencies."