The Event is now over but if for some reason you missed it, here's an overview of Multiverse Month of Madness 2. We hope you enjoyed our event and the contributions of our members that pitched in to bring you new downloads for an entire month.

 Congratulations MMV!

Click on the banner or where it says comments below to follow everything that happens in the event
The character we know you all have been waiting for and the one RobinWanKen0bi has been doing a great job of teasing all event long has finally been released! Find the download and more information on everything after clicking:
Apocalypse released!!
We all know that Dr. Strange is one of the most anticipated projects on MMV. Well, now you can get an early look at him and then talk about it here:
Video Preview of Dr. Strange
chuchoryu really went all out today with three all-new character releases and a WIP reveal. His Tekken project is his first love and it now has Bruce Irving. He has also released an original character named Ken Hayabusa for his soon to announce Ninja project. Then he made a CvS Liu Kang from Mortal Kombat. And finally he announced that he'll be making Dhalsim. Clicking any of the appropriate pictures will take you to the different topics
Two more great stages for 'The Adventures of Batman' project have been released and can be found when you click the image above
Check out this great OpenBOR game called Marvel War Of The Gems made by rafhot
The custom version of Captain America created by Ax has gotten a major update. If you'd like to download and/or find out more, you'll find it by clicking on his picture
Another portrait pack containing 144 images has been released by volzzilla. For a better look and to find the download, click on the preview
Big WIP news for you all this day. logansam made a great new video of Captain Atom that you can watch when clicking on his image. Next, an awesome WIP reveal from tank402 of everyone's favorite Orange Lantern, Larfleeze which you'll find out more of when clicking that image
Two brand new creations for you today. First, we'd like to thank duracelleur for getting involved in our event by releasing the amazing Karochi Taiki from Tatsunoko. When looking for him, wish him a Happy B-Day! The next download is an edited stage by volzzilla called Tony Stark's Showroom. You'll find which ever item by clicking the appropriate image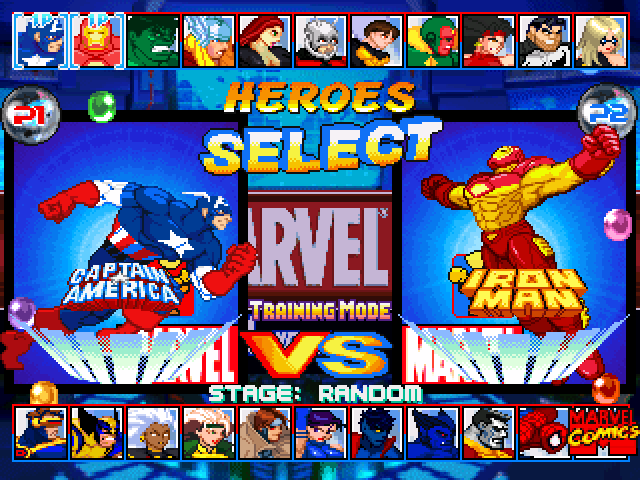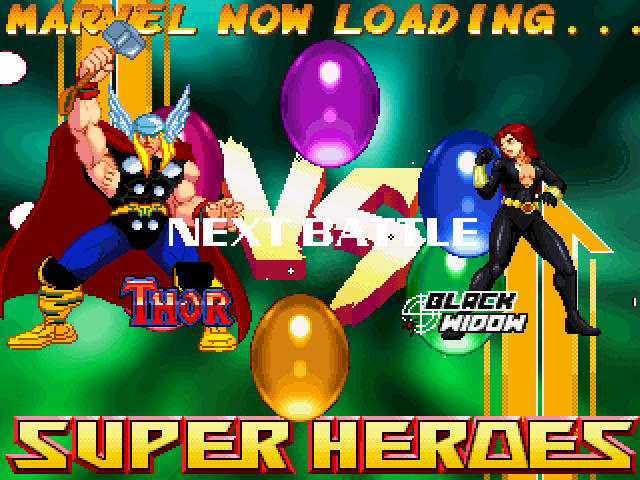 If looking for a really good Marvel themed screenpack, check out this great one by mazemerald when clicking on either preview
Here is an all new video preview of one Arkady's more anticipated projects that you can talk more about at:
Video Preview of Black Panther
You can find two all-new stages Ax made for his 'The Adventure of Batman' project when you click the above animation
An alpha character in long need of an update finally gets it in Hercules by andersontavars. You will find out more by clicking on his image
Ax is back at it in the screenpack making business. This time with a theme for Mortal Kombat. To get it, click the above picture
A few all new downloads for you today. First, a pair of all-new Tron stages by Arachno-Man. Then a pretty major coding update to Iron Patriot done by our newest team member, JARRO77. Which ever image you click will take you to the appropriate topic
MMV has added a few new team members and we hope you will welcome them here:
tank402, JARRO77, and Avalon join the team
RobiWanKenobi has shown off another great video of his anticipated WIP of Apocalypse. Watch it then discuss it at:
Apocalypse Video #2
We'd like to thank kyoman for again getting involved in one of our events. This time he's released a great stage for Sunfire that you can find when clicking the image
Chimoru has been awesome ever since he joined MMV. Well, he has again contributed here with the release of a very helpful Voice Pack from Injustice you'll find if you click the picture
Everyone loves the Spec Ops characters, and thanks to O'Ilusionista helping us celebrate our event, you have an all new version of Mexican Typhoon. Find the download when clicking the picture above
Mazemerald decided to get involved in our event by releasing this great Capcom Universe Screenpack for Mugen 1.0. When you click on the image you will find out more
Check out this great new video of Iron Fist and then talk all about it here:
Video Preview of Iron Fist
MMV would like to thank Toni for allowing us to now host his amazing Supergirl creation. Double click on her to find out more
If you liked Ax's version of Samus Aran before, you are going to love her now. gartanham put in a bunch of hard work to upgrade her look to what you see now. Talk about it and download her after clicking the image
Announcing an all-new project based on Spider-Man 90's Animated Series called, "Web of Spider-Man"
MMV would totally like to thank Varia31 for getting involved in our event. After watching this great video, talk about Samus Aran and find the download at:
Samus Aran by Varia31 released
(Updated 11/24)

Check out these all new WIPs when clicking the appropriate picture
Watch this great video of Forge by Arkady and then talk about it all here:
Preview Video: Forge by Arkady
Check it out, Sketch Turner by Farengeit released. To find him, click on the picture
A pair of releases for you today. First there is the long awaited Sunfire By Pazitivvv and Arkady. And now, presenting the phantom ghost pirate himself and now for the first time, Cervantes by CVS Artist. Whichever image you click will take you to their release topic
Logansam and Mach3 have put out another great video update of the Man of Steel. Talk about it at:
Man of Steel Video
Thank you to Avalon for wanting to get more involved in MMV and our event. He is a first time creator sharing his versions of Fire, Nick Fury, Red Tornado and Tomar Tu. Click the image to find the topic for all four
Ax had a couple things in store for us today. First an all new stage from his Batman project, and then he revealed an all new WIP of Robin. To find out more, click whichever image above
We have a pair of character releases for you today. First includes an update to Pyro courtesy of Zvitor and Arkady. Then an original character for the Smash Bro Mugen Project named Krumm by flammableking and chuchoryu. To download either one, click their corresponding image
volzzilla released a portrait pack specifically for Thor only to help celebrate the new movie. For a better look and to find the download, click the preview picture
Check out this awesome new video of Apocalypse RobiWanKenobi made and then talk about it here:
Preview Video of Apocalypse
By clicking on the image you will find out more concerning the release of Reptile from Mortal Kombat
Day 8 of the event is WIP Reveal day. The headliner is obviously the awesome new WIP of Forge by Arkady. But Andersontavars shared a pair in General Zod and Red Hulk. Click ay of the corresponding images above to see more
Congrats to Chimoru for his first release, updating Jhonny_DC's Fire. After watching the video, go here to download and find out more
Fire updated
volzzilla has released another portrait pack containing 144 images. For a better look and to find the download, click the preview picture
Check out this WIP Reveal of the X-Men villain Arcade by volzzilla when you click his picture
Find the download for the first released stage for the Adventures of Batman project, Gotham Rooftops, when clicking the image
[/flash(425,350)][/flash(425,350)][/flash(425,350)][/flash(425,350)][/flash(425,350)][/flash(425,350)][/flash(425,350)][/flash(425,350)][/img(320px,240px):7389][/url][/img(320px,240px):7389][/url][/flash(425,350)][/flash(425,350)]